Wrapping-Up The Runways + Resurgence Of The LBD & Fabulous Ways To Wear It
(Fall Ensemble Ideas — The Little Black Dress — Fashion-Week Recaps)
"Say No to ho and yes to eccentric glamour"—Simon Doonan—might, loosely, be a theme here for the remainder of the year, in one form or another, because we all want to be an insanely more fabulous us, right? We'll be covering portions of advice from his book Eccentric Glamour. We'll also be covering wonderfully unconventional ways to wear stuff. BTW—Conscious Commerce & Eccentric Glam can go hand in hand, oui? I want YOU to explore this idea and come back here with a report ... or at least a comment below. In the last issue I asked what eccentric glam means to you. I'm hoping you have pondered it a bit, or will.
Simon says —"Why the hell wouldn't you want to be one of the fabulous people, the life enhancers, the people who look interesting and smell luscious and who dare to be gorgeously more fascinating than their neighbors."— He would advise us all to not give in to conformity, to develop a fab personal style, and not to dress like a ho or a humdrum. First, I love the term Life Enhancer, a description with such panache! Second, Mr. Doonan is not referring to celebrity culture when he says 'fabulous people', and he fears too many women are dressing like hoochie blow-up dolls (his words). You do not want to look like one of those! This is an ongoing topic —why?— It's fun and life-enhancing.
Let's talk LBD — This is also a fabulous Summer-into-Fall idea. How great, again and always, is the little black dress? In a sea of MAXIMALISM, right now, with bells and whistles around every corner, I can see why there's a resurgence of it. (On the streets of Paris in our last issue) And what great timing — a perfect opportunity to buy an LBD or two if you don't already have one, or refresh what you already own. You can seamlessly mix it up with all the fabulous maximalism going on, or do your version of minimalist (or existentialist, or socialite, or gypsy —dressing themes a la Simon Doonan & Eccentric Glam). The little black dress can be the perfect backdrop for lots of maximal ideas ... like brightly colored or tricked out shoes, statement jackets and coats, chunky sweaters, cool hats, scarves, etc. In fact, lets put aside our jeans, just for a little while, (they're overworked and over-worn) and try making dresses the go-to canvases for other fabulous accoutrements. It'll be eccentrically glamorous, too.
Ideas: Take one Little Black Dress (gray can work, too), add the following items for Fall-Winter wardrobe styling. Do put your own twist on these ideas, ignore my advice where it may not apply to your personal vibe, but do heed some of it, it will help. I love a combination of polished and haphazard, so much more eccentrically glam than looking too put together or looking like you're trying too hard. So I recommend not dressing like a teenager, nor a prostitute, nor too much like a rocker (there's cool, then there's sad). Also, I said polished, not uptight, so keep it fun with plenty of joie de vivre! *Below, the featured dress is an easy pull-on with pockets, and the adjustable waist-tie is removable + a list of good suggestions for fall-winter and the LBD.
*Questions? — I'm here to help. Take your time, think of clothes as beautiful service items that enhance your life. You can build an entire wardrobe around a LBD.
"The eye has to travel" — said Vreeland. So do it, make it interesting and pretty and glam and fun.
Get Dress + Tee & Tights + Jacket + Boots + Scarf = Fab Fall Ensemble
I'm not getting too specific here because I want to encourage you to exercise your creative personal-style muscles, and to ask questions. There are some links here, the rest is your call, and you know I'm happy to help in a stylist like capacity. Word to the wise: Most of these suggestions are very practical and fabulous. Choose pieces that you'll wear and enjoy for a long time. Invest in quality, skip the trendy fashion-fashion stuff, they're not the cornerstone of building a good wardrobe. Good purchases seldom come with buyer's remorse.
Wrapping-Up The Runways — Is it just me or are designers just trying too hard to be cool right now? So much is looking contrived on the runways. Perhaps they're under a lot of pressure to deliver ... what exactly? I'm all for creative apparel and individual expression, but there are so many odd, unappealing pieces floating down those catwalks. I know a fashion intellectual would say that fashion isn't necessarily supposed to be flattering, but does it all have to look so ... is weird the operative word? While I often love odd proportions and conceptual pieces, at the end of the day you've got to wear it and feel good, no? Everyone has their own feel-good definition, yes. I love rebellion, but maybe I'm a little (gasp!) old-fashioned? I still love charm and romance and pretty, with a bit of edge, but not so aggressively. I like harmony, a symphony of fabulous and practical beauty. Beautiful is useful.
Side note: I tell you this — multi-colored shoes (multiple colors in one shoe) are in our future, for a while, and that's a good thing. — Enjoy the photos of some of my faves.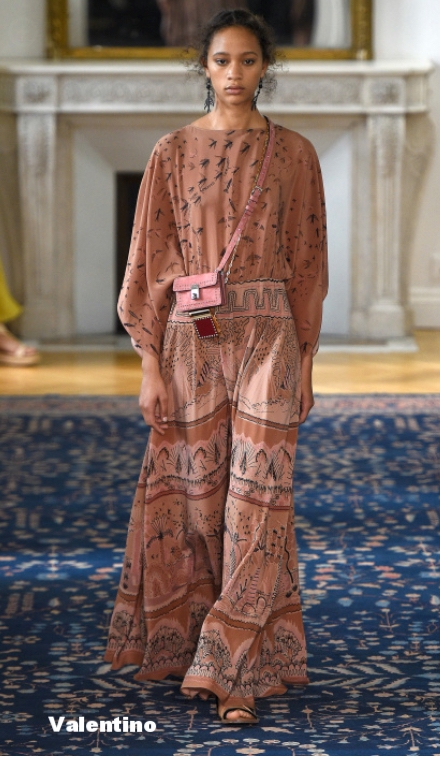 I think the new designer (that dude from Vetements, a highly overrated line) has ruined Balenciaga this season, with those ridiculous shoulders ... I did kind of enjoy the giant bags that can double as pouf-seats in a flash, maybe ... but not for the house of Balenciaga.
LOVE LOVE> Valentino — Just gorgeous dresses that you can't stop looking at, magically delicious and lovely.
Sarah Burton also did some stunning pieces at McQueen (not every piece), but much of it was beautifully made, and if taken separately, can translate well into fancy-fabulous-eccentric wardrobes.
Miu Miu — had some really good pieces. The floral car-coats, demurely fab swim-costumes, charmingly fun dress — plenty of (somewhat disguised) prettiness. Not without some odd color combos and patterns, but that's its signature. I don't always love late 1960's colors and patterns, they have a way of looking old/dated real fast.
Can't say I loved Givenchy. Yes, the dresses at the very beginning were really good, the suits and many shapes were not appealing, but more awkward.
I'm always teetering on the verge with Chanel. Of course the tweeds are great and forever and for keeps, and a few of the dresses are good — but overall, the looks were often awkward and silly, sorry, Karl, what can I say, just don't love it.
So much sweet romance at Giambattista Valli, along with some naughty-ness and silliness — I dug a lot of it. The boho maxi dresses just keep on going and going...
Did like some of the dresses and jackets at Louis Vuitton's sci-fi collection, but too many pieces were a bit too contrived looking for me. Loved the boots.
There was lots of silliness, plenty of cuteness, some hideously giant shoulders, but the SHOES were the best part at Vivienne Westwood, and the PJs looks were fun too. Can't say that I loved the collection, but I love her. She's wild and crazy and brilliant and that's what we love about Viv!
Thom Brown — while NY left me generally blah, Mr. Brown stood out, and in a good, crazy way. See, Thom can color outside the lines and get brilliantly kooky, because what's underneath are stellar good clothes. When you break it down beyond the runway, what you are mostly left with is Fashion-for-Keeps. And the shoes were so fab!
I loved all the white pieces at Oscar de la Renta. While Oscar is no longer with us, his legacy of purely beautiful clothes continues.
Lastly — Street-Style from Paris — Sometimes this is better than runway, for inspiration and ideas and fun people watching. I did love the street-style in Milan (see our last issue) much more than in Paris. It was prettier, sexier, more fun, more joie de vivre.
That's all folks! — I hope you found this issue to be packed with good ideas and inspiration. As always, I'm available to answer your questions, and look forward to bringing you more fabulously practical style advice and images you'll enjoy. There was a lot of good stuff in the last issue as well, be sure to peruse it, if you haven't already. See you in 2-weeks.
Ciao! Happy Fall to You All.