A new collection is in the process of becoming…
Vogue has answered our call and declared a 'moment' in fashion that is free of fashion trends, and it's music to my ears. I hope it lasts beyond just this moment. (Perhaps others have heard the call or made their own trendless declaration). There may come a time when trendiness and throw-away fashion could become unpopular or unsustainable. Who knows? For now, let's enjoy the "in-ness" of individuality.
The other day I saw Jeannie Becker (remember her from Canadian fashion TV?) say that fashion is becoming more season-less, echoing what I've been saying for a few years now. Hooray! If a Canadian can say it then it must be true. Even Etsy curators are beginning to do 'transitional' stories in their features, in this ladder of progress, and can hopefully let go of the term 'trending', (like nails on a chalkboard).
I'm thinking practically and unconventionally, trying to apply both to this new transitional capsule. Like a well curated wardrobe - I always want to give you pieces that you'll enjoy wearing for a long time, that transition well from season to season, year to year, and work nicely with what you already have.
I'm loving volume and free flowing styles with a bit of structure to them. Thinking of keeping a couple of our lovely maxi dress styles, for that prairie vibe that's currently afoot. It's a little old-fashioned, a little boho, a little glam. The keyhole style has been particularly good for us, and will continue to work well from spring into fall. I'm thinking of a couple of new bridal dresses in cotton eyelet. They will look unconventionally fresh and beautiful for (hot or beachy) summer weddings, and beyond bridal, so you can wear them even if you're not getting hitched.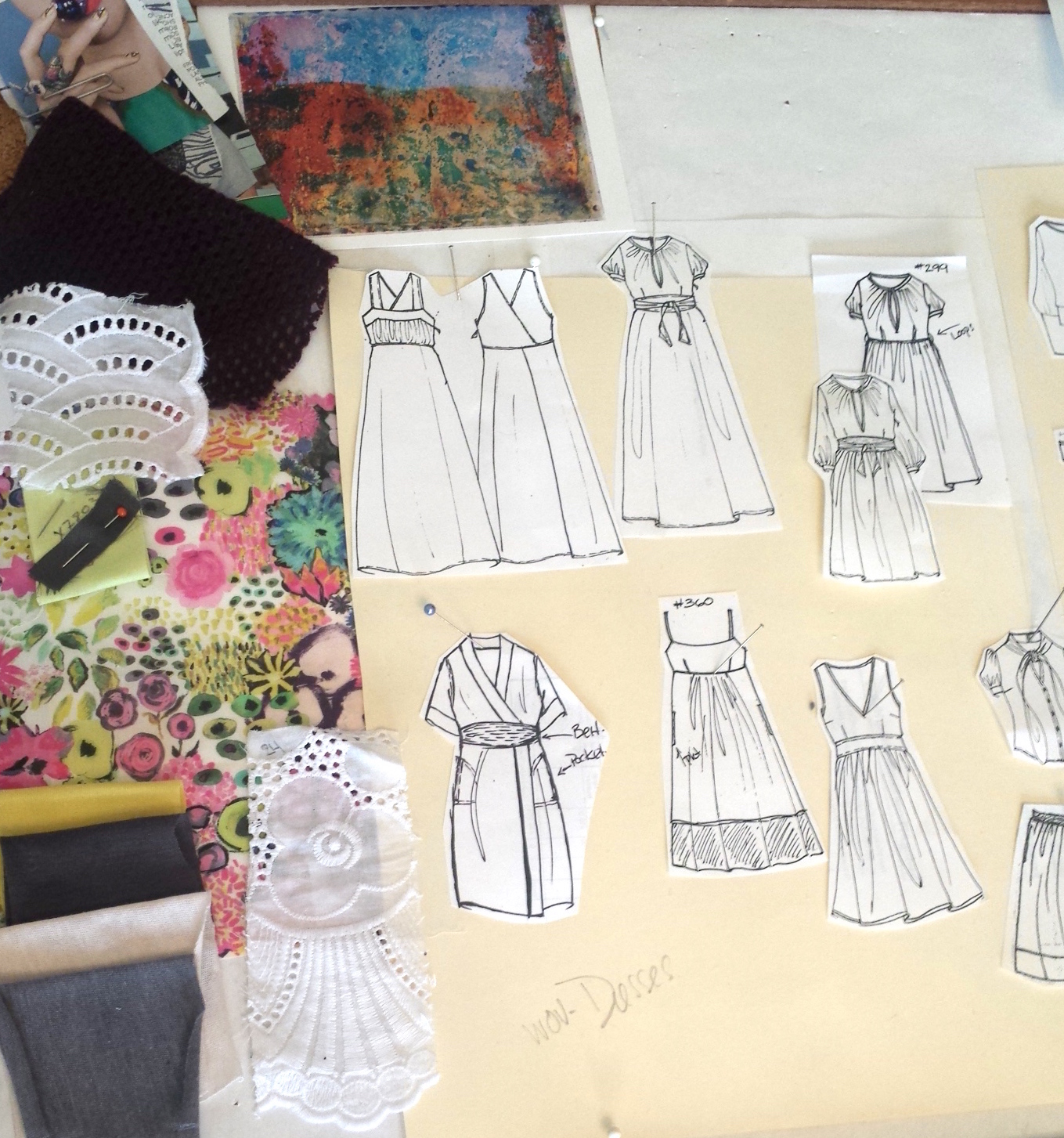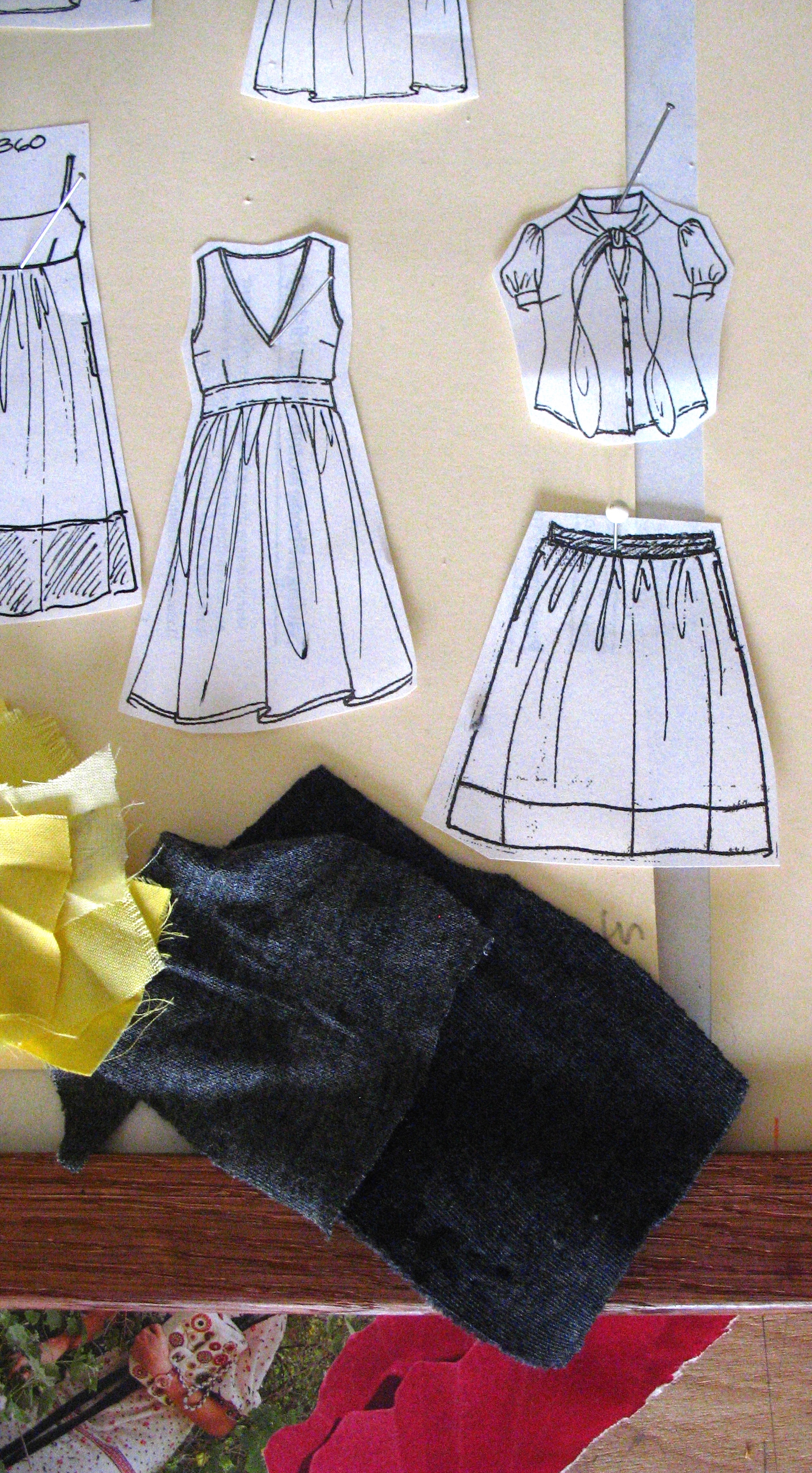 Ideas in progress…sketches & swatches
We won't be making all of these styles, they'll be edited down more tightly. However, if you have favorites, now is your chance to speak up and let us know.
I want to add some knit pieces into this, mostly dresses, mix. The swingy dirndl skirt and scarf-tied shirt will look great in woven cottons but, what about jersey? - I think, yes! They would be wonderfully versatile in jersey, perfectly transitional, and super cool, (very 50's, with more comfort). I want to make it easy for you, without having to compromise beauty, style, quality. After all, these pieces are not cheap, (well, they are for made-to-order) and I want to give you your money's worth.
Inspiration from the beautiful book my sister gave me
There will be more to say on all this work in progress, as we make the new collection… What's working, what isn't, etc. For instance, how do you feel about body suits? - To wear with skirts and pants - Sexy & versatile, or not so much? What kind of dress style are you digging? Are you craving a cool sweater, a fun yet structured blazer? Do you love liberty prints as much as I do? Things like this… Feel free to chime in.
Always thoughts of dresses
Lastly, creating more structure in your life gives you more freedom - according to Craig Ballyantine, (Early to Rise). Adopting a set of rules for every aspect of your life - health, family, financial, etc. - for the sake of living better. I've been pondering this the last couple weeks. I love freedom and I like structure. Not so long ago my life contained a lot of structure and discipline, but only when it came to work, and this made my life more rigid and less fun. These days I'm more relaxed about my work (schedule). However, I'm wondering if there are some good ways to introduce more structure into my life, without sacrificing the ability to chill out and enjoy. I'm considering adopting some new rules, or revamping some that'll serve me well. As always, it's all work in progress - will they contribute to happiness?
So, I challenge YOU to an assignment: 1. Create or adopt your own rules to live a better life, (if you haven't already). 2. Curate your wardrobe. 3. Let me know how it's going, anytime, with notes, comments, emails, etc. Not easy, I know. Are you up for the challenge?
Until next time, ciao!
To Inspire
Happy Belated Birthday to Coco Chanel, one of my style icons.
see our fb page for the most recent updates and like us too -